I live too close to the hills.
The little neighborhood is squeezed in a valley between the hills. And the hills think that they own the place. The coyotes cry in the hills every night, the hawks fly overhead, looking for rabbits. The rabbits and deer on the road keep me alert when driving at night. I got a whole range of birds in my backyard; from hummingbirds, to finches (who destroy the vegetables seedlings), to the mourning doves (three generations hatched in my garden shed so far), and now, the turkeys.
Last week wild turkeys from the hills found a way into my yard, and destroyed all my beautiful tomato plants. I cried for a whole day, replanted the tomatoes, put a 3-foot high fence around them, and now I am offering turkey and tomato dishes to everyone, in a way of a revenge. It feels very satisfying to take the body of your enemy, ground, form it into bite-sized meatballs, and fry in oil.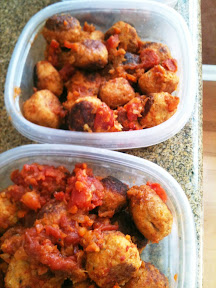 Kids love meatballs, and because I make mine with lots of vegetables that enhance both their flavor and texture, parents love them too. And everybody like a food that comes with a story and an emotion.
I like to use quinoa cereal instead of the breadcrumbs to make my meatballs fluffy. Whole Foods sells it. If you can't get this, use Panco breadcrumbs.
Turkey meatballs, tomato sauce
Serves 6
For the sauce:
2 Tbsp olive oil
1 onion, finely chopped
1 clove garlic, minced
2 carrots, coarsely grated
3 celery stalks, finely chopped
1 large can whole peeled tomatoes in tomato juice
3 Tbsp tomato paste
1 cup white wine
For the meatballs:
1-1/2 lb ground turkey (dark meat)
2 Tbsp tomato paste
1 egg
2 tsp Worcestershire sauce
1 cup Panko breadcrumbs or quinoa cereal, more if needed
Salt, pepper
1/2 cup olive oil
Make the tomato sauce:
Heat the oil in a large sauté pan over medium heat. Add onion, garlic, carrots, and celery. Cook, stirring, until the vegetables are soft and begin to brown. Remove half of the cooked vegetables to a mixing bowl, set aside to cool. Add tomatoes, tomato paste, and white wine to the pan. Bring to a boil, reduce heat to maintain a slow simmer, cook, stirring occasionally, until most liquid evaporates and the sauce has good, solid texture, but not dry.
Make the meatballs:
Add ground turkey, tomato paste, egg, Worcestershire sauce, and breadcrumbs to the mixing bowl with the reserved vegetables. mix with your hand. Depending on the other ingredients, you may need to add more breadcrumbs or cereal to achieve a soft, pliable, but not runny mixture. Season lightly with salt and pepper.
In a large pan, heat the oil over medium-high heat. Dip your hands in cold water to prevent the mixture from sticking to them. Take a walnut-sized piece of the turkey mixture, shape into a ball, then flatten it to make a small patty. Cook briefly, turning once, until cooked through. Taste. Adjust the seasoning. Repeat, if necessary.
Shape the turkey mixture into walnut-sized balls, dipping your hands in cold water every time the mixture begins to stick. Brown the balls on all sides, shaking the pan or stirring carefully to rotate them. Remove the browned balls and place them in the simmering tomato sauce. Turn to coat, and simmer 30 minutes more.
Serve over pasta, rice, or mixed vegetables.
The rest of the menu on one of my "turkey and tomato" days:
Vegetable soup with pesto
Pan-fried cod, tomato and olive topping
Green beans and peas ragout
Spring onion tart with bacon and gruyere
Baby arugula salad with walnuts and goat cheese
Pulled pork
Roasted yams
Turkey meatballs, tomato sauce
Spaghetti with garlic and olive oil
- Posted using BlogPress from my iPad
Location:San Rafael,United States