Chicken with peppers, sweet onion, and Meyer lemon, seasoned with salt, pepper, chili flakes, thyme, oregano and bay leaves, ready to go into the 400 degree oven:

Chicken is ready. I added olives during the last 5 minutes of cooking, just to warm through: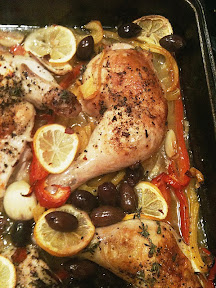 Poaching black bass in aromatic broth made with white wine, lemon, carrot, parsley and parsley root, garlic, bay leave, and black pepper. The head of the fish adds body to the broth, character to the photo, and makes a good snack for the cook afterwards:

Spinach and feta quiche. Does it look like a little sun to you?
Note: the pictures were taken with my iPhone during preparation of 5×4 with side dishes plus soup and baby food family meal package in their relatively small kitchen. Please forgive the picture quality, I'm doing my best.
– Posted using BlogPress from my iPad
Location:Cupertino, CA