My client S. has found out that restricting carbohydrates helps her to achieve her weight loss goals without giving up the satisfaction from meals. S. is a good cook herself, and had been cooking most of the dishes for her new low-carb, high-protein diet.
She is not very comfortable, however, with preparing red meats and seafood. To break the monotony of roasted chicken breasts and fried salmon fillets, S. asked me to cook a package of meals that she could keep in the freezer, in individual serving containers, and reheat whenever she is pressed for time, or feels like eating something different.

Here is what I cooked for her today. The chicken soup has onions, celery, and just one little carrot, finely sliced and sautéed in butter, and fresh green beans, red and yellow peppers, leeks, tomatoes, and black Tuscan kale.
Chimichurri, a bright fresh Argentinian sauce, made of parsley and oregano with garlic, dried red chilies, red wine vinegar, and olive oil, is as good with lamb as it is with grilled beef (or almost anything grilled), is totally addictive, and doesn't add much carbs, calories, or weight to the dish – just a lot of flavor.
Menu November, 7
Chicken and vegetables soup
Shrimp stir-fry with peppers, spring onions, and bok choi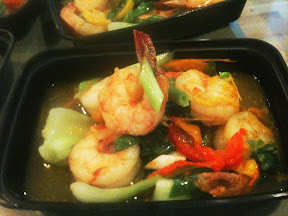 Leeks, spinach, and bacon frittata
Braised leeks
Delicata squash stuffed with beef and vegetables
Roasted Brussels sprouts
Lamb chops, chimichurri sauce

Kale with garlic and white wine
- Posted using BlogPress from my iPad
Location:Mill Valley, CA