Our winter is mild, there is no snow, the mimosa is blooming, and we get a couple of hours of short sleeves almost every day. But by the dinner time it's usually cold and dark. Dark, cold, and windy. Cold.
So here is a comforting winter menu that I cooked today. It's full of hearty meats, mushrooms, citrus fruits that are natural antidepressants and are in season right now, and it even includes my Grandma's meat pies, directly from Russia, recipe follows.
The menu:
Roasted vegetables soup
Salmon with lemon and parsley gremolata
Fennel gratin
Farfalle with creamy chicken and mushroom sauce
Roasted pork loin with honey and orange glaze
Braised red cabbage
Meat pies
Spinach salad with walnuts, orange, and goat cheese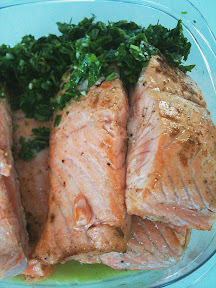 The meat pies are based on my grandmother's recipe for Tartar belyashi, or peremyachi, with a few changes made to accommodate modern Californian ingredients. They are a perfect accompaniment to any winter soup.
Meat pies
Makes 12
For the dough:
4 cups all-purpose flour, plus more for dusting
2 packets active dry yeast
2 tsp sugar
1 tsp salt
1 egg
1-1/2 cup of warm water, or enough to form a soft, pliable dough
For the filling:
1 lb ground grass-fed beef
12 oz ground lamb
2 medium onions, minced
1 small bunch of flat-leaf parsley, minced
1 Tbsp Worcestershire sauce, or to taste
Sea salt, fresh ground black pepper to taste
For cooking: 1/2 cup grape seed oil, or other high temperature, neutral-tasting oil
In a large bowl, combine flour, yeast, sugar, salt, egg. Add water, a little at a time, and mix with your hands to make a soft dough, about the texture of pizza dough. Knead for 5 minutes. Form the dough into a neat ball, put in the bowl, cover with a napkin, and set in a warm place to rise. After about 1 hour the dough should double in size. Pinch it back and fold 2-3 times. Let rise and double in size again.
Combine ground beef, ground lamb, onions, parsley, and Worcestershire sauce. Season with salt and pepper. Fry a bite-size piece of the filling and taste for seasoning. Adjust the seasoning. Divide the filling into 12 more or less equal portions.
Remove the dough onto a surface dusted with flour. Cut the dough into 12 equal portions; roll each portion into a ball. Roll out each ball into a 6-inch disc. Place a portion of the filling in the middle of a disk, gather the sides and pinch them together to enclose the filling, leaving a small opening in the middle. Flatten the pie with your palm into 1-inch thick disk. Repeat with remaining dough and filling. Let the pies rest 20-25 minutes.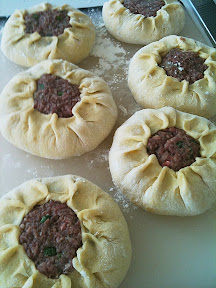 Divide the oil between two large frying pans. Heat the pans over medium heat. Place the pies, open side down, into the pans. Cook until well browned. Turn over, baste with hot oil from the pans, cook until golden on the other side and cooked through, 10-12 minutes. Remove the pies to a paper towel covered plate. Let rest for 10 minutes before serving.
- Posted using BlogPress from my iPad
Location:Palo Alto, CA