What's good at the market right now
- Summer squashes. I know, we'll all get tired of them by the end of July, and will try to unload the surplus on the neighbors and friends. But right now they are exciting, new, fresh, tasty, and come in many varieties. Slice them thin for a salad, or grill them, sauté them, stuff them, make pancakes and tarts with them.

- Tomatoes. The larger heirloom varieties are not really ready yet, and the cherries, Early Girls, and beefsteak tomatoes rule the market. Pasta with fresh tomatoes or a tomato sauce, tomato and bread salad, roasted pepper and tomato soup. Or just eat out of hand with a little sea salt. Smaller Early Girls and plum tomatoes can be selected to match the size of Japanese eggplant and zucchini to make a dramatic stacked ratatouille.

- Eggplant: king of the grill. Slice thin lengthwise, grill on lightly oiled grill (don't oil the eggplant slices, they will absorb all the oil in a moment, and the surface will be dry again). Marinate grilled eggplant with balsamic vinegar, garlic, and olive oil; or wrap herbed goat cheese in grilled eggplant slices; or blend with tahini paste, olive oil, and roasted garlic for baba ganoush, a classic Mediterranean spread.
- Corn. White, yellow, bi-color, and all other colors. Grill.
- Stone fruits: peaches, nectarines, apricots, plums, pluots. Eat straight, blend in shakes and gelato, bake, make preserves, create sweet and spicy sauces for chicken and pork, serve as part of a cheese board… Possibilities are endless.

- Figs. Love. Just eat them. Eat them from a tree with your hands; wash them and eat them with a fork; split them and stuff with goat cheese, honey, and black pepper; wrap them in prosciutto; wrap them in bacon and grill; add them to a lamb roast; slice them into a fruit salad. Just eat them, they will be gone too soon.
- Melons and watermelons. They are just beginning to appear, and when sliced and chilled, they compliment the July weather like nothing else. I also love slices of green-fleshed melons with prosciutto.
- California king salmon. We are in the middle of the salmon season, the prices are as "reasonable" as they will get, and the fish that was caught today is usually available – this is what's important when buying fish. This fish has great flavor and texture, and requires very little adornment. A suggest grilling, pan-frying, or poaching it, then serving it with basil oil, homemade aioli, gremolata, chimichurri, or yogurt-dill sauce.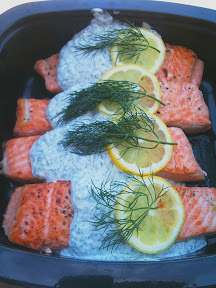 - California white sea bass is a better choice environmentally than Chilean sea bass, and almost as good. Grill.

- Santa Barbara spot prawns. If you can afford them, grill them life, and eat with a squeeze of lemon.
- Posted using BlogPress from my iPad
Location:San Francisco Bay Area