For this month's meeting of our Bay Area Chapter of US Personal Chefs Association, we went on a foodie tour, exploring food places of West Marin County. As often happens in our business, many of the chefs got busy at the last minute, and only five of us made it to the meeting, turning it into small, casual family gathering.
We started with an oyster farm tour at Hog Island Oyster Company. The farm manager showed us how they grow their oysters in submerged wire basket, told us about oyster's life cycle, science and technology that go into farming oysters, and seafood safety. We were amazed to learn that even a simple Pacifica oyster takes two years to reach market size. For the tiny delicate Kumamoto oyster it's three years. I will never complain again about the price of fresh oysters.

Then we sat at a rustic picnic table by the water, and were served fresh sweet water Pacificas, Kumamotos, BBQ oysters with the farm's signature chipotle-bourbon-garlic butter, Cowgirl Creamery soft-ripened cheese rolled in fresh herbs and edible flowers, and Carneros Brut Rose sparkling wine.
Our next stop was Point Reyes Winery. We tasted their well-aged, medium-bodied wines made of grapes grown in cool coastal areas. One of my favorites was 2001 Cabernet Sauvignon, and then I was tale that the winery gets it's Cabernet grapes from a friend, who grows them in a small vineyard in Terra Linda, just blocks from where I live!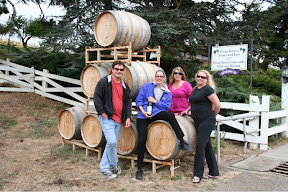 After unsuccessful attempt to engage the cows at the nearby dairy farm in a photo session, we proceeded to downtown Point Reyes Station to do our grocery shopping at the delightful Palace Market, and then to chef Garbo's charming Inverness country house, to cook our dinner.
The menu was:
Chef Garbo's Side Car cocktails
Crostini with fig jam and Brie by chef Dawn
Shrimp skewers appetizer by chef Kara
Wine-marinated cedar plank grilled salmon by chef Greg
Chef Greg's green beans
Grilled butterflied leg of lamb with chimichurri by chef Polina
Chef Dawn's sweet potato and wild mushroom gratin

We had to abandon all our dessert ideas, since no one had room for the dessert anyway.
We enjoyed cooking together, talked business and food, exchanged tips and tricks about grilling, knife sharpening, using kitchen gadgets, admired chef Garbo's food styling studio and a beautiful collection of vintage styling props, and generally had a great time.

The next morning my boyfriend and I traditionally missed the chefs breakfast chez Garbo, and instead had coffee and last nights leftovers for breakfast on the beach in front of our hotel room. Then we went for a hike in the hills overlooking Point Reyes seashore, where we saw large herds of elk, a few deer, a coyote, and where I almost stepped on a snake.
On the way back I stopped at a butcher shop on Marin Sun Farms to get grass fed steaks for the grill.
- Posted using BlogPress from my iPad
Location:Inverness, CA